Garage Clean Out
✓ Servicing Charleston and the region
✓ No hassle no hidden fee dumpster rental
✓ Get a quote, call 843-628-4573
✓ Customer friendly staff
✓ Fastest delivery and pickup in SC
✓ Locally owned reputable business
✓ Hundreds of satisfied customers
It's amazing how quickly junk can take over a garage, especially one that doesn't keep a vehicle. Items such as broken ladders, old garden hoses, empty paint cans, useless equipment, flower pots, leftover motor oil, forgotten toys, and outdated newspapers and periodicals are only the tip of the iceberg.
At some point, a major cleanup effort will be required. Is it a smart idea to get a dumpster for cleaning out the garage?
Given that you presumably have a restriction on the amount of waste you can place at the curb, having the dumpster company take care of all your storage waste is not a practical alternative.
It is recommended that you choose a residential dumpster rental. To have a dumpster delivered to your property and filled with the junk in your basement, all you need to do is give your local waste management company a call, and we'll set one down for you to fill.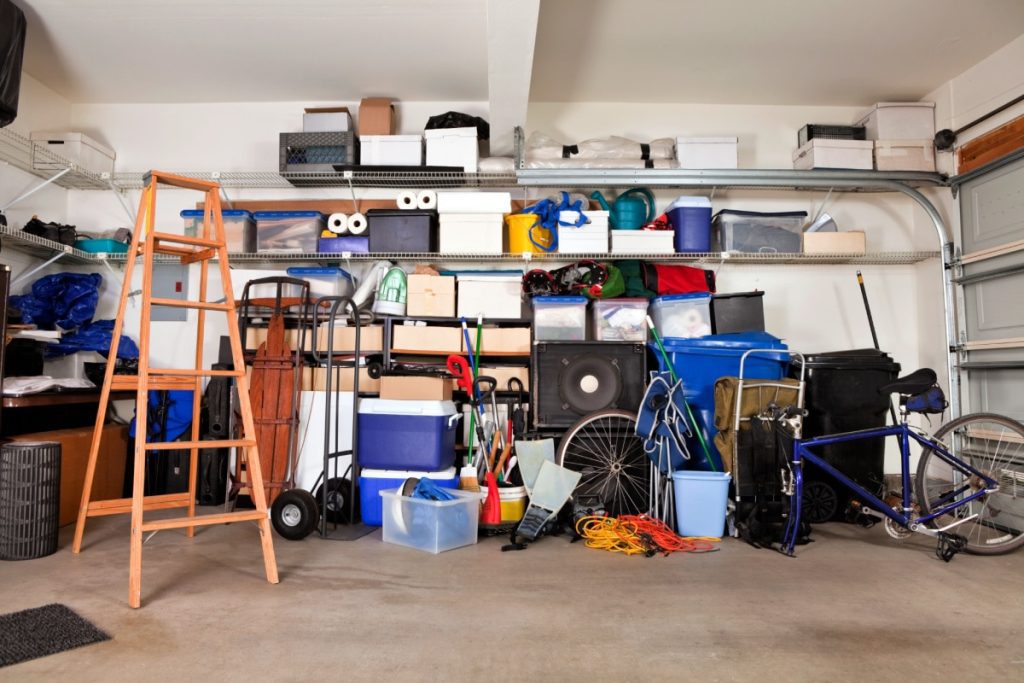 Residential dumpster rental sizes for garage debris removal
So, how big should the dumpster you rent be? This is a very important question because you don't want to go too small and have to pay to have it carried off two or three times, and you don't want to go too big and risk losing money.
Most companies that rent dumpsters have containers that can hold between 6 and 30 cubic yards of junk. Most people don't understand those numbers, so let's break it down by the size of the roll-off.
If you need to clean out about three pickup trucks' worth of junk from your garage, you might want to move up to the 10-cubic-yard dumpster. This one is 14 feet by 6 feet by 3.5 feet and can hold 5,000 pounds of trash. Most projects to clean out a two-car garage will be a good fit for this dumpster.
The 20-cubic-yard dumpster is a good choice for cleaning out a three-car garage because it can hold up to 8,000 pounds of trash. It is 18′ long, 8′ wide, and 4.5′ high, and it can hold trash that fits into the beds of six pickup trucks.
If you want to completely rip down and get rid of a detached garage, you'll need a 30-cubic-yard dumpster, which can hold 11,000 pounds of junk.
Approximately 5 to 6 metric tonnes, or 10,000 to 12,000 pounds, can fit in a 40-yard container. People rent 40-yard dumpsters for big remodelling jobs, big cleanouts, and building projects.
Keep in mind that some of the junk in your garage is probably dangerous and can't be put in a dumpster. Chemicals, batteries, paint, solvents, and very heavy things don't belong in the roll-off because whatever you put in it will end up in a landfill. For example, even when batteries are completely dead, We still contain cadmium, mercury, and lead, which can leak out into landfills and harm the environment.
At Dumpster Rental HQ, Charleston, SC, we have experts who can help you rent the right size dumpster. Just ask, and we'll also help you figure out what items from your garage can or cannot go in the dumpster. Call us today at 843-628-4573 to find out more.
✓ Servicing Charleston and the region
✓ No hassle no hidden fee dumpster rental
✓ Get a quote, call 843-628-4573
✓ Customer friendly staff
✓ Fastest delivery and pickup in SC
✓ Locally owned reputable business
✓ Hundreds of satisfied customers